Venue:
12th International Congress for the Study of Child Language
We are very pleased to announce that the venue for the IASCL meeting in 2011 will be Montreal, Canada. The planned location for the conference is the Université du Québec à Montréal (UQÀM), located in the city's urban core.
UNIVERSITÉ DU QUÉBEC À MONTRÉAL (UQAM)
Berri-UQAM Metro Station
Underground exit name: Université du Québec à Montréal
IASCL 2011 will be held in three adjacent pavilions
conveniently identified during the Congress as:
IASCL CENTRAL
IASCL SATELLITE 1
IASCL SATELLITE 2
The following activities will take place in these pavilions:
(Signage will be color-coded)

Registration, Welcome Reception,
Plenary sessions
Poster Presentations
Lunch Box Distribution
Pavilion J (Judith Jasmin)
405, Sainte-Catherine E.
Accessible

Symposium Presentations,
Coffee Breaks
Pavilion R (Sciences de la gestion)
315, Sainte-Catherine E.
Accessible
and

Symposium Presentations,
Coffee Breaks
Pavilion DS (J. A. De Sève)
320 Sainte-Catherine E.
Accessible
Virtual Tour of the IASCL 2011 Venue through the UQAM Student Lipdub
Montreal is an especially visitor-friendly city, in particular in summertime. It is also one of the least expensive places in North America. The city has a rich cultural heritage with French, English and other ethnic roots, making it one of the most popular destinations in North America.
The downtown location provides easy access to the conference via public transportation and the dates adhere to the long tradition of the IASCL conference being held in mid-July. In addition, at this time of the year, Montreal hosts a number of vibrant festivals (the Just for Laughs Comedy Festival, the International Fireworks Competition, the Nuits d'Afrique Music Festival [African Nights], to name a few), all of which can be explored by conference participants.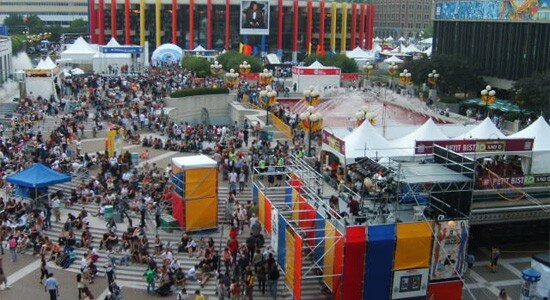 Montreal Jazz Festival
Montreal is an attractive venue for the IASCL meeting in 2011. There are four universities (UQÀM, McGill, Concordia and Université de Montréal) in this Canadian city, all with vibrant research activities in child language that incorporate the various disciplines of cognitive science. Researchers from several university departments are interested in different aspects of child language and have strong links to other research centers in the city and abroad. The Cognitive Science Institute, the Center for Research on Language, Mind and Brain-CRLMB and the Center for the Study of Learning and Performance (linking all four universities) are well-known research centers focusing on language and cognitive science.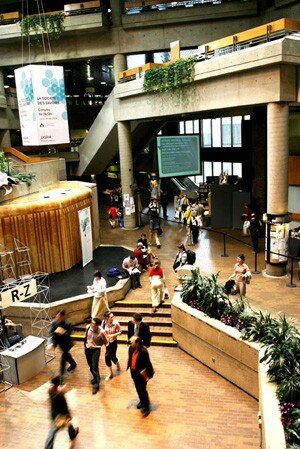 Photo UQÀM
In recent years, there have been sixteen international annual TENNET (Theoretical and Experimental Neuropsychology) conferences held at UQÀM (1990-2005) with a strong linguistic component. In addition, there are several national and international conferences in all areas of cognitive science held each year in Montreal. For example, the Canadian Association of Applied Linguistics hosted their annual conference in Montreal in 2007; and the Generative Approaches to Language Acquisition North America (GALANA 2) Conference is to take place at McGill University as well. Also, the 2010
Summer Institute on The Origins of Language
was held at UQÀM. This coming summer, UQAM will also host three other conferences in cognitive science:
Cognitio 2011
, the
International Seminar on Speech Production 2011
, and the
Joint Meeting
of the Society for Philosophy and Psychology and the European Society for Philosophy and Psychology.
The principal conference room will be the Salle Marie-Gérin Lajoie (MGL), located in the Judith Jasmin building at UQÀM. The room has a seating capacity of 731. In addition, a number of amphitheaters will be used for parallel sessions. Moreover, posters will be displayed in the area surrounding the MGL room.